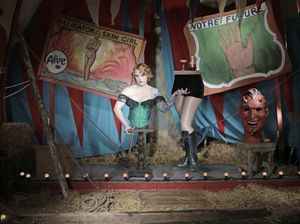 Step right up and witness the spectacle that is Madam Misfit and her Carnival of Chaos!
 Join comedic rap artist and rabble rouser Madam Misfit as she lets loose her cavalcade of mesmerizing miscreants to excite and entice you. 
Those of a delicate disposition beware! This is not for the faint of heart. Prepare to be amazed as our performers take the stage, showcasing their incredible talents in a variety of disciplines, with each act sure to leave you on the edge of your seat.
From fire to feathers, swords to songs, the jaw-dropping to the eyebrow-raising, our resident "Tigress in a Top Hat" delivers it all… And, naturally, Madam Misfit herself will be taking the mic, delivering her signature brand of quirky, upbeat tunes, guaranteed to raise a smile. 
A combination of sideshow and circus, Vaudeville and variety, music and magic, witty rhymes and conga lines, there's never a dull moment in this world of wonder and excitement. So, what are you waiting for? Gather your friends and join the frenzy...